RIKKI MOSES RACCOON

More Fair Pictures






WOW !!!
    Look at all these people that thought I was good lookin'!!!!!
Maybe I should be a model or something!!! HEE HEE!!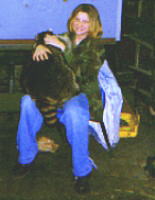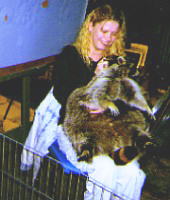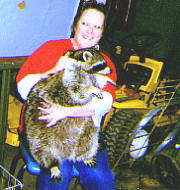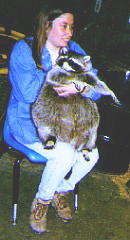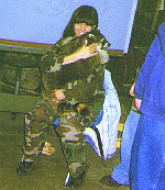 This is my friend Sam. She helped take care of me at the fair so I gave her a big hug !!

This was my second year to go to the fair and I really had fun.
I hope they ask me to go next year !!


An update: I was invited to participate in the FFA FAIR again this year, 2000.
I have no pictures yet to add to the page. I did get to be on TV though and I sat on the reporter's
lap while he talked about me.I also removed his microphone from his collar.    hee hee hee. He told everybody that I was a big, big coonie. I weighed 45 pounds, but that was cause mommy put me on a diet. Last year, I weighed 54 pounds. (see pics above),HEE HEE.

Update: I got to go to the fair again this year too. 2001. Moms pictures didn't turn out so we can't add any unless one of the kids took some and will loan them to us. They had a big, big turkey there this year. Jordy went this year and he is just a baby. He was scared, so I pulled him under me and hid him so he would feel safer.
He's my baby brother and I have to take care of him. Mom would make me get off him so people could see him and then I pulled him back under me again. We only got to go one day this year. The teacher called mom and said everyone was asking 'where is Rikki Moses'?. He thought the kids had invited us, but they had forgotten.He said he wants us to come again next year too! So if you want to see us then, the fair is at the Seeger Memorial High School in Warren Co, IN. Last year, we had people from a lot of places come and see me after they saw me on TV and they got to see all the other animals too.