Jordan Andrew (Jordy) came to live with us on May 27th, 2000. He was about 7 or 8 weeks old.
He doesn't look like me because he is a blond raccoon.     I didn't want him.
I didn't think I needed a baby brother but Mom didn't listen to me and got him anyway.

I wouldn't go in the room where he was for a few days, but then mom let me hold hom.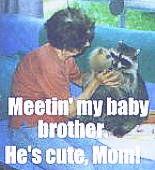 So now if you'll just sit back and relax like me....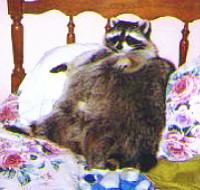 Here's my baby brother!!!!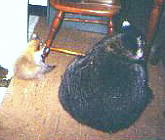 Hey, Rikki Moses! Am I sittin' right ? I'm learnin'


Rikki Moses says RJ always puts candy in his pockets for him.
I wonder if he will give me candy when I get bigger ?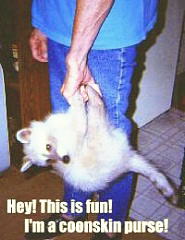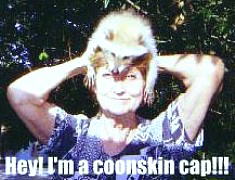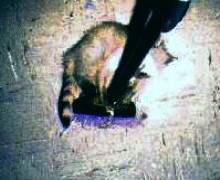 Now I'm a mop !    This is fun !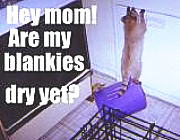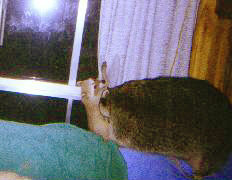 Rikki Moses never climbed curtians! He tried to pull me off! HEE HEE!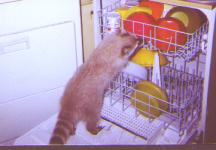 Is my bottle an' bowl in here, mommie?"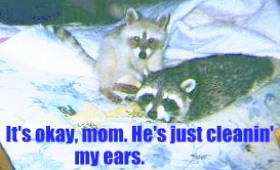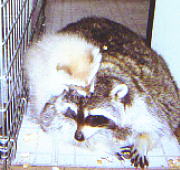 I love my big brother ! My Mom says he has lots of patience. Whatever that means.

Prince Aaron-Jackson Skunk (Aaron) and I have lots of fun.
He's cool ! We chase each other and wrestle.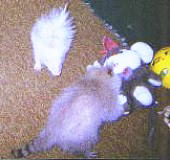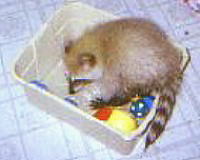 It sure is fun playin' with ice cubes.    Thanks Mom !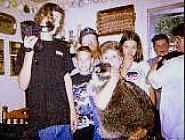 These people came all the way from Oklahoma to visit Rikki Moses and me.
I hid and Mom and Uncle Richard looked for me for about 3 hours !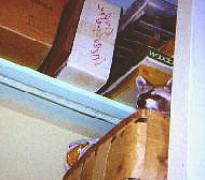 I hid up here    hee hee hee !