I get to wear Rikki Moses' TARA shirt?? WOW! Does that make me a member of THE AMERICAN RACCOON ASSOCIATION, mom??
Mom keeps all kinds of stuff in the fridge for me and Rikki Moses. All he wants is an egg though. Gee!
One of these days,I'm going to learn to play this thing and Rikki Moses can sing!!!!!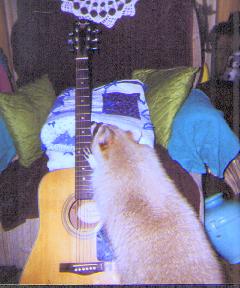 Let's go hug mom!!!!! We'll give her lots a hugs.