If this picture is copyrighted - please let me know and I will remove it



MANY OF MY RACCOON FRIENDS ARE WILD RACCOONS !

They are found along the road after their Mom has been hit by a car or has been injured somehow. There are many kind people, who are called rehabbers, who take them in and keep them until they are well or big enough to go back into the wild. These people give the raccoons their vaccinations so they won't get sick once they are
back in the wild. Lucy and my brothers Poo Bear and Rocky were released.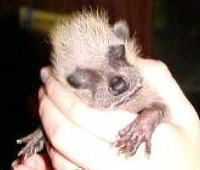 This tiny baby raccoon is being rehabilitated so he can grow up and be released.
His name is Spike.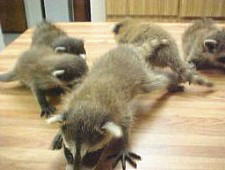 These are six to eight week old babies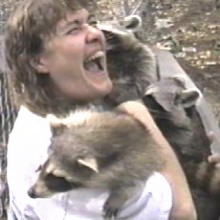 These young raccoons are being cared for by a rehabber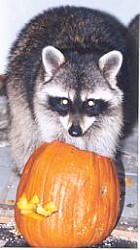 This is Robby, he was rehabbed and has been released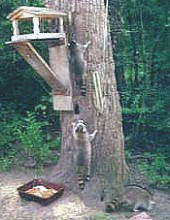 These raccoons have just been released.
They will be watched and fed for awhile to make sure they are doing well.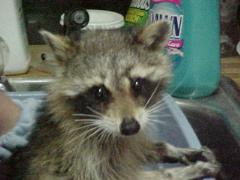 This is Sweetie, a very special baby raccoon. He was beaten and left to die on the grounds of a golf course.
He was rescued and taken to a rehabber where he managed to live long enough to have his story become known world wide.
Please help stop this abuse!!!!!
This is my mom!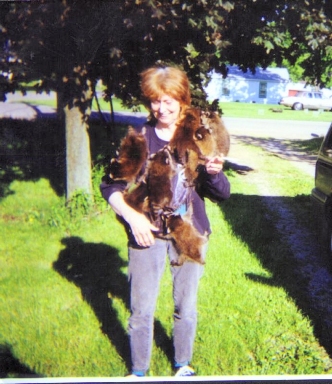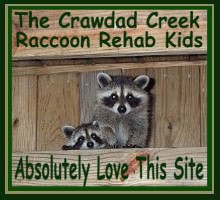 If you have any questions about an injured or orphaned wild animal, or one that has become a nuisance, you
can email me and we will try to answer you or put you in touch with a qualified rehabilitator that can help.


THINKING OF GETTING A RACCOON AS A PET ?

Before going out and getting a raccoon for a pet you should learn all you can about what it is like living
with a raccoon. Questions like:    Are they legal in your state ? How long do they live ? Are they destructive ?
Do they carry disease ? Are they, or do they become vicious ? THESE ARE VERY IMPORTANT QUESTIONS YOU SHOULD KNOW THE ANSWERS TO ! Raccoons are not for everyone. They are not like a dog or cat !



NEXT
Click the Image

HOMEPAGE
Click the Image