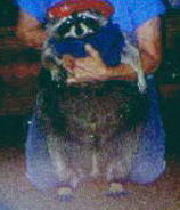 I am Rikki Moses Raccoon !




MY PET TIP: PLEASE HAVE YOUR PETS CHECKED FOR HEARTWORMS AND KEEP THEM ON PREVENTATIVE MEDICATION AND HELP KEEP MY FRIENDS HEALTHY.



This is my story.

One very cold,cold day in March, when the ground was all covered with snow, my two brothers, Poo Bear and Rocky and myself, were all snuggled in our tree nest, nice and warm. Some men came with saws and cut down our tree. When the tree fell, our Mamma got hurt and crawled off into the woods. The men could not find her. One very nice man, the other men called Midas, took off his coat and wrapped us in it to keep us warm. We were very frightened because we were so tiny. Our eyes were not open yet. I guess they open when we are about three weeks old. Mr. Midas took us home to his nice warm house and Ms. Marianne fixed us a very warm bed in a basket and gave us each a warm bottle of milk. I think she called a doctor to find out what to feed us. The nipples were big, but she kept trying to get us to eat. Finally we figured out how to get the milk out of the bottle and it was really good. We didn't eat much at first. We were only about four inches long. Ms. Marianne became our Mamma and she loved us very much. Mamma Marianne sang in church and she would bundle us up in our nice warm basket and take us to church two or three times a week. She wouldn't leave us at home. She took our bottles and fed us there when we got hungry. We all loved Mamma Marianne. She even made diapers for us so we wouldn't get our bed messed up. When we got big enough to climb out of our basket, we played with Mamma Marianne's dog, Buckwheat, and her cat and kittens. We had fun chasing each other around the house and climbing on the couch. Mamma Marianne is a co-ordinator for FEED THE CHILDREN and she sings and writes songs.

I am very proud of Mamma Marianne.



Hi Ya Mom
I didn't tear the curtains, shred the mini blinds or ANY of that other stuff.     Honest!
Its a coonie thing Mom !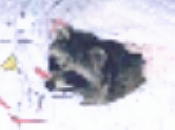 me..in Indiana and Mieko..in Florida