Raccoon Property Laws......

1. If I like it, it's mine.
2. If it's in my hand, it's mine.
3. If I can snatch it from under you, it's mine.
4. If I had it a little while ago, it's mine.
5. If it smells like me, it's mine and belongs in my cage, or room.
6. If you're doing or building something,ALL the pieces are chew toys for ME!!
7. If it looks just like mine, it IS mine.
8. If I saw it first, it's mine.
9. If you are playing with something and you put it down, it automatically becomes mine.
10. If I can sink my teeth into before you see me, it's mine.
11. If it tastes good, it's mine.
12. If you say I can't have it, I want it and it will then become mine.
13. If I can drag it under the bed, couch, etc. before you grab me, it's mine.
14. If I can take the candy out of your mouth, it's mine.
15. If it's broken, it's YOURS.(now in some cases, if it's broken, I love it even more, hehe)
16.NO means let's see if I can get to it before you catch me!!
17. If I have something you want, offer me something better and maybe, I will let you have it. Its still mine, of course, and I will take it back later.
18. No also means: I'll try again later, when mom isn't looking.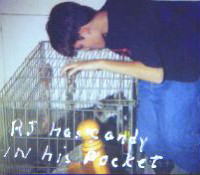 19. If I can get it out of your pocket, its mine! If I can catch you as you walk by me, I might take your pants too, just to get the candy. Right, R.J.? HEE HEE!